Here is my photographic trip report for the recent birding trip to Gambia I did. The aim was to see as many birds as possible in a 10 day trip up the river Gambia. To keep the report interesting I will limit repeating birds that have already been mentioned, instead I will include a full list of what was seen at each site via my eBird checklist for each particular location.
Day 1
After a longer than expected journey, fraught with delays, we arrived at Banjul airport, and after a bit of anticipation, the first birds of the trip, on the airfield, were Marsh Harrier, Western Plantain-eater, Speckled Pigeon and a large flock of about 250 Little Swift. After a very slow coach journey, we finally arrived at the Holiday Beach Club on the coast near the Senegambia. A quick shower, evening meal and an early(ish) night was in order, ready for an early start in the morning.
Day 2
The hotel had some decent gardens, so before and after breakfast we wandered around seeing what we could pick up. They were mainly common birds but nonetheless good birds for any first timers to Africa. Yellow-billed Kites and Hooded Vultures were literally everywhere, as they were for the rest of the trip. A pair of Lanner Falcons patrolled up and down the coast, and a Shikra sped through the hedges, while a group of Green Wood-hoopoe noisily flitted between the palms. We seemed to have some resident Cattle Egrets that hung around the pool every morning as well as a wide selection of common species, including Laughing Dove, Red-eyed Dove, Speckled Pigeon, Brown Babbler, Plantain-eater, Long-tailed Glossy Starling, Red-billed Hornbill, Pied Crow and Common Bulbul. The exit of our property was a good spot for Piapiac, Green Vervet and a troop of Red Colobus monkeys that visited every morning. We boarded the minibus and first stop was the world famous Kotu Bridge, where all the local guides are based, and hawk for new business. Luckily we were already sorted with a top local guide in Pa Jallow, and the man who did the plates and drawings for the 'Field Guide to the Birds of Gambia and Senegal' book, Tony Disley. We were in good hands. Kotu is a great birding spot and we soon clocked up a big list of wetland birds including Giant Kingfisher, ubiquitous Pied Kingfishers, Malachite Kingfisher, Woodland Kingfisher, Pink-backed Pelican, Long-tailed Cormorant, Striated Heron, Squacco Heron, Grey Heron, Black-headed Heron, Great White Egret, Intermediate Egret, Hadada Ibis, Senegal Thick-knee, Whimbrel, Greenshank, Redshank, Common Sandpiper and Black-winged Stilt. There were also good numbers of passerines in the form of Willow, Olivaceous and Subalpine warblers, Village Weaver, Red billed Firefinch, Red-cheeked Cordonbleu, Grey-headed Sparrow, Beautiful and Variable sunbirds, brief views of Bearded Barbet, Northern Puffback, and Northern Crombec.
We had to peel ourselves away from the bridge and go on a short walk towards the Palm Beach Hotel, to try build up our list. That was quite productive and we had good views of Yellow-fronted Tinkerbird, Pearl-spotted Owlet, Zitting Cisticola, Senegal Coucal, African Jacana, Bronze Mannakin, Blue-bellied Roller, Broad-billed Roller, Fork-Tailed Drongo, Pallid, Little and Palm Swifts, Fanti Saw-wing, Wire-tailed and Red-chested Swallow, and the bizarre looking Mottled Spinetail.
Being the clumsy oaf that I am, I ended up snagging my leg on a branch down a small trail leading to a pool. The pain soon went away with my first ever views of Painted Snipe! What a bird, definitely a contender for bird of the day. The temperature was rising and lunch with a cold beer was calling. We went to a small bar on the beach and set ourselves up to bird beyond the sun worshipers and sea-watch with a beer. It was relatively quiet, but the seawatch experts of the group picked out Arctic and Pomarine Skuas with the scope, as well as Lesser Black-Backed Gull, Sandwich and Royal Terns. After lunch we headed back towards Kotu Creek with a view to investigating the sewage works that lie adjacent to the creek. New birds were getting picked up every minute as they do at the start off any trip, including the stunning Oriole Warbler, Ring-necked Parakeet, Senegal Parrot, Little Bee-eater, Swallow tailed Bee-eater, Black Crake and African Grey Woodpecker. Walking through the scrub and into the sewage works we topped up the day list with Spur-winged Plover, Yellow-wattled Lapwing, White-faced Whistling Ducks, Wood Sandpiper and Yellow-crowned Gonolek. One particular acacia tree had Lizard Buzzard and a young African Harrier-hawk within a few metres of each other.
The walk ended back at the bridge where we got suckered back in to birding the same area. The tide had gone out and a cast of crabs marched across the mudflats amongst the mudskippers. The sun was setting and we got good views of Malachite Kingfisher, Black-capped Babbler, and some of us got close range Bearded Barbet. Time to call it a day and head back to base to re-calibrate.

Full eBird checklist for Kotu Bridge.

Day 3
Three days in and the plan was to go to Lamin Rice fields and Abuko nature reserve which were about an hours drive from the hotel. A very short distance but through the chaos that is the main city, Serrakunda. It is up there with the most chaotic places I have been. Masses of people, rubbish dumps full of vultures, burning rubbish, traffic, old cars that constantly churn out black smoke, goats, chickens and the hustle and bustle of busy markets. The sights, sounds and colours intense. It was a spectacle to say the least.
Thankfully we arrived at the oasis that is Abuko, a remnant patch of so called primary forest. A decent patch for birding, but you can't help but notice the fact that is barricaded in at all sides by human encroachment. Anyway we parked up but first headed across the road to Lamin rice paddies to see what grassland species we could pick up. Hundreds of Village weavers moved around the tall reeds, and we also got our first views of Red Bishop and Red-billed Quelea. A lone Singing Cisticola let us approach very close and get some decent close up shots. Maybe we offered it some protection from the Shikra circling above us. We also had great views of Northern Puffback and African Paradise Flycatcher. Moving between the rice paddies we saw Splendid Sunbird, Beautiful Sunbird, Olivacious Warbler, Green Sandpiper, African Jacana, Wood Sandpiper, Squacco Heron, Pallid Swift, Black-winged Red Bishop and a lot of more common species.
The walk ended up at the start of the Abuko trails, where our driver Ablie was sipping green tea with the rangers, who offered us some of this extremely sugary hot drink prepared by constantly tipping it from pot to pot to mix the sugars. No wonder there were a few dental issues going around. Anyway we cracked on and the bird assemblage changed dramatically as it does in these coastal forest patches. Views are much more fleeting and it requires focus and patience to get onto whatever gets spotted. We had a Monitor lizard in stroking distance at the Darwin Centre hide and as well as Purple Heron, Palm Nut Vulture, Woodland Kingfisher and Grey Plantain-eater.
Moving deeper into the forest we started to pick up the true forest species such as Little Greenbul, Yellow-breasted Apalis, Pied Hornbill, Violet Turaco, Pygmy Kingfisher, Lesser Honeyguide, and Green Turaco. Then we walked through more open areas and had Swallow-tailed bee-eater, Green-backed Eromemola, Klaas's Cuckoo and Fanti Saw-wing. The forest walk ended up at a small shop in the middle of the park where we had a nice lunch. The shop was part of a cluster of buildings associated with a bizarre animal sanctuary that straddled the line between sanctuary and zoo. It only seemed to keep baboons and Hyenas, which sadly, I think were there for show. Anyway we were lucky and caught feeding time. The rangers butchered a goat in front of us which roused the hyenas from their underground dens and started doing their characteristic whooping calls. One of my absolute favourite sounds of the wild. Pa, our guide asked me to go in the cage with them, I thought he was joking. He wasn't, but I still wasn't convinced. Then, out of nowhere Andy came and walked straight into the cage with them and started taking photos, without a care in the world of the danger. Soon the realisation of what he was doing soon kicked in (going off the expressions on his face). This somehow twisted my arm into getting in with them for a few brief snaps. Not my finest hour but hey ho.
The rest of the afternoon was spent in a great little photographic hide with a small drinking pool. The calibre of birds we had here in such a short period of time was astonishing; Western Bluebill, Oriole Warbler, Buff-spotted Woodpecker, Leaflove, Blue-breasted Kingfisher, Snowy-crowned Robin-chat, African Thrush, Red-bellied and African Paradise Flycatcher, Bearded Barbet, Black-necked Weaver, Orange-cheeked Waxbill, Blue-spotted and Black-billed Wood-dove, and a lot more common species. All birds were coming in to drink and feed in the late afternoon after a hot day. Time for us to do the same!

Full eBird checklist for Abuko and Lamin rice fields.

Day 4
Day 4 started with a trip to Brufut woods and surrounds. En route we saw a gorgeous looking grey kestrel which had to be stopped for. Brufut is another remnant coastal woodland and savanna patch. It is notably different to Abuko as it is more open and scrubby. By all accounts the birds of this area are very famous, and the stars off the show are White-faced Scops Owl, Verreaux's Eagle Owl and Long-tailed Nightjar. We got 2 of the three. Firstly though we had our first and only views of Northern Black Flycatcher followed by numerous starlings including Bronze-tailed, a lovely White-billed Buffalo-weaver, a really nice perched up Red-necked falcon, Grey-backed Cameroptera, Beautiful Sunbird, and Lavender Waxbill.
After a short walk we came to a reliable site for Stone Partridge and sure enough we could hear there loud, distinctive call. It took us a bit of scrambling around a plot of land before finally getting them in the scope. Stunners. Next up in that area was a roosting tree for Northern White-faced Scops Owl, and we had 2 in the scopes in next to no time. Also circling near the same tree was a lovely Black-shouldered Kite. Walking a bit further and we arrived at an entrance to Brufut woods where the locals had set up some feeders and sold cold drinks etc. From here we had great views of a Levaillant's cuckoo, Orange-cheeked Waxbills, thousands of Pallid and Palm swifts high in the sky, Cardinal Woodpecker, Copper Sunbird, White Pelican, Viteline Masked-Weaver, and the main attraction, Long-tailed Nightjar, which the local guides had already staked out for visiting birders, another stunner.
Full eBird checklist for Brufut woods.
After a longer than expected lunch break, we ended up at Tanji for the latter part of the day. Tanji is a fishing village/harbour that is bustling, hectic and very colourful. The beach suffered from bad plastic pollution, but the birds didn't care and we topped up our day list nicely with Caspian, Sandwich and Royal Terns, Grey-headed, Lesser Black-backed and Kelp gulls, Whimbrel, Bar-tailed Godwit, Sanderling, Turnstone, Osprey and Lanner falcon.
Full eBird checklist forTanji Fishing port.
Day 5
Day 5 and the plan was to slowly head up country to Tendaba with birding stops along the way. The first stop for the day was at Bonto Forest Patch, which is slightly out of the urban areas and certainly has a more quiet feel to it and a decent chunk of forest left. Birds of note here were Dark-chanting Goshawk, Common wattle-eye, Green Hylia, Collared Sunbird, Pied Hornbill, a calling African Goshawk and arguably the bird of the trip! The local guide led us to a make shift bench in a dark clearing and began mimicking the call of a White-spotted Flufftail. To our amazement it replied, but it seemed too far away. The guide had confidence and continued luring it in. After 25 minutes or so he said get ready, and sure enough this tiny little bird had popped up in the shadows right in front of us. What a bird. Being predominantly a ground dwelling bird, it had walked some distance on the forest floor to get to us. Sadly it was too dark to get a good picture.
Full eBird checklist for Bonto Forest Patch.
Back on the road and we were soon seeing some special birds along the roadside such as Wahlberg's Eagle, Bataleur, Martial Eagle, Melodious Warbler and even Patas's Monkey. The habitat had changed significantly by now as the urban sprawl was long gone and villages faded into famland. We stopped at the beautiful looking Kampanti bridge and connected with more Violet Turaco's and saw the first of many Abyssinian Rollers of the trip.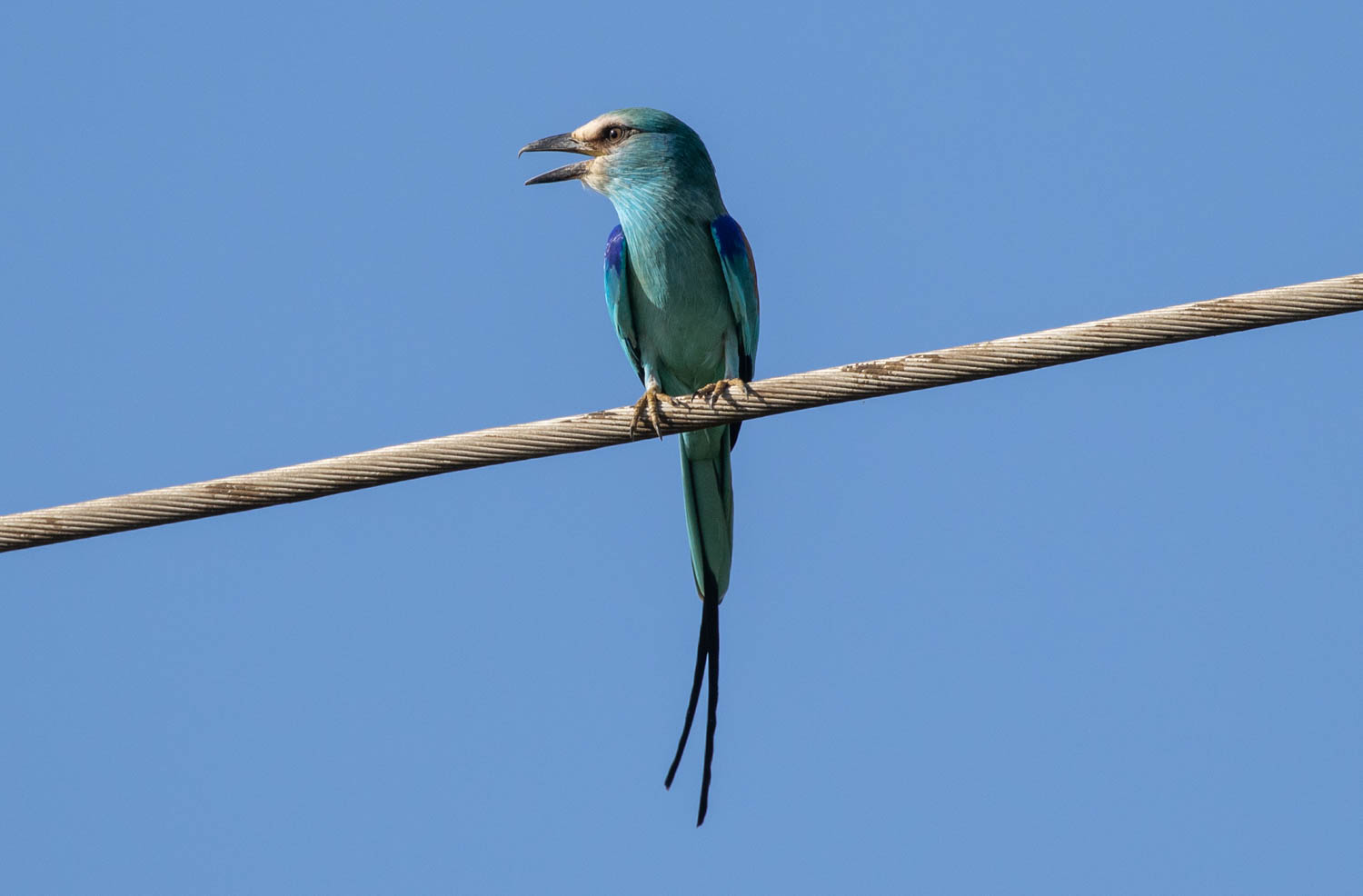 As darkness hit we landed at the infamous Tendaba camp on the banks of the river Gambia. In times gone by this was a stop off point for British ship captains sailing up and down the Gambia, but now it is fully established as one of Gambia's premier locations for birding. The accommodation was very, very, very basic but the location and food was really good. After dinner we decided to do a bit of a night walk and heard African Scops Owl calling, so we tracked it down and got some decent shots of that. Apart from that the main spectacle was the night sky. It was one of the best I have seen, and the only real clear night sky of the whole trip.
Day 6
Morning arrived and we were up and out on foot to bird the surrounds of Tendaba Camp. What a great start it was as we had Dwarf Bittern at close range followed by a pair of distant Vieillot's Barbet that came in overhead. Other birds of note were Namaqua Dove, Bruce's Green Pigeon, Double-spurred Francolin, Cut-throat Finch, Scarlet-chested Sunbird and Black-rumped Waxbill. After lunch we ventured further out in the minibus and were soon stopped by an overhead Snake Eagle. A closer inspection revealed a lovely Beaudouin's Snake-eagle, and at the same spot we had a shade seeking Striped Kingfisher and Yellow-fronted Canary. Driving further into the peanut fields a herd of cattle caught Pa's attention as it held a really nice Yellow-billed Oxpecker that was substituting game for cattle. We decided to get out the van and go on a walk from here to see what we could find. What a great spot for birding. The list here was endless but highlights were Whinchat, Grasshopper Buzzard, Pygmy Sunbird, Bush Petronia, a nice kettle of vultures over which included Ruppell's and White-backed Vulture. It was very hot by this time so we found a nice shady spot under a tree and waited to see what came to us. We had Black Scimitarbill, Chestnut-backed Sparrow-lark, Redstart, Rock Thrush, African Golden Oriole and White-rumped Seedeater. We had to down tools and get back to base in time for lunch, but on the way back a large expanse of water not far from Tendaba caught our eye, and we had to get out and have a look. Another great little birding spot, we added African Hawk-eagle, Grey Plover, Slender-billed Gull, Gull-billed Tern and Western Baboon to the trip list.
After lunch we walked around the trails behind Tendaba which was a little quiet but we still managed to get a few more species in the form of Black-crowned Tchagra, Village Indigobird, Brubru, and Yellow Penduline Tit. After dinner we went back to the scops owl site to show anyone that had missed it. It wasn't showing but we found a young goat with its collar stuck on barbed wire. I am not sure it would have survived without us rescuing it and Tony escorting back to camp. While he did that, we continued spotlighting on the way home and came across a family of Senegal Bushbaby up in the trees, with their huge eyes reflecting our torch light.
Day 7
The next morning we were up and out early for a walk towards the airfield again. It turned out to be another very birdy morning with good numbers and views of the more common species. Then we were treated to a great show by 2 displaying Grey-headed Bush-shrikes. The courtship display involved bill snapping, head tilting and chasing flights, a wonderful thing to watch, only briefly interrupted by a flock of Eurasian Spoonbill overhead. Once near the airfield we aimed for the raised hide over the marsh. Almost immediately 2 Gabar Goshawks marauded in, sending all the small passerines into deep cover. Other noteworthy species in this excellent area were African Hobby, Brown Snake Eagle and African Silverbill.
After lunch we were packed and ready to leave for an unconventional departure on a boat, going on a one way trip across river into the mangroves. Our driver was driving the long way around to do the ferry crossing solo, so we could keep birding. What a guy. Anyway the boat trip was very productive, with a full suite of species you would expect in the mangroves, from reef herons to pelicans, and Greenshank to Great Cormorant. Stand out species were Martial Eagle, African Fish Eagle, Wooly-necked Stork, Goliath Heron, White-throated Bee-eater, Mouse-brown Sunbird, African Blue Flycatcher, Marsh and Curlew Sandpipers, Ruff, and Yellow Wagtail. The heat became blistering and we aimed the boat for the rendezvous point. As we got close to the marshy shores, our boat bottomed out due to the weight and low tide, so we had to do a rather comical evacuation on to the muddy banks. Trying to find the driver was an adventure in itself, but we finally hooked up with him and proceeded the tour on the North Bank of the Gambia river, with Morgan Kunda Lodge in our sights.
Full eBird checklist for Tendaba camp day 1.
Full eBird checklist for Tendaba camp day 2.
Full eBird checklist for Tendaba camp day 3.
Only the breadth of the Gambia river separated these two locations but the bird assemblage seemed to be notably different, as did the land use, visibly more rural. A stop at a waterhole gave us the opportunity to compare all the different starlings and tick off a few new bee-eaters in the form of Little Green and Blue-cheeked, great looking birds. An amazing Sahel Paradise Wydah was also at the water hole and gave excellent flight views, laboriously dragging its tail in flight from tree to tree.
We arrived later than expected at Morgan Kunda which is a great little lodge in the perfect location for birding. It is community ran and set up by the Morgan Kunda Foundation, headed by Phil Morgan, a philanthropist from the UK. A quick beer and a chat with Phil, and we were back out for the last hour of light to find our target species for the area, Abyssinian Ground Hornbill and Saville's Bustard. A short drive and we were pointed in the right direction by the locals and proceeded to scan the peanut fields. Then we heard the unearthly call of Saville's Bustard coming from behind a large pile of harvested peanut plants. The nearest sound I can think of that resembles the Saville's Bustard is the ringing tone when somebody phones you through Facebook. Try it and compare. Anyway we split up and scoured the fields, then all of a sudden a huge bird flushed in front of me, blatantly a bustard but definitely not a Saville's. It was up and over the tree line in a flash with no solid views. I shouted over the others and after a bit of a debate about what it was, we carried on our search. It flushed again, this time giving us the chance to get some flight shots off and ID it as a Black-bellied Bustard, a much bigger bird. We continued the search and almost immediately flushed another bustard, the Saville's. Two different bustard species in the same field, enough to call it a day and head back to base for a lovely meal and Julbrew.
Day 8
The morning after we thought it would be best to head back to the same spot and see what else was on offer. Wise choice as we were soon viewing Montagu's Harrier, and a small group of Four-banded Sandgrouse in flight. We had point blank views of a small family of Chestnut-backed Sparrowlark feeding young at our feet and we also flushed a probable Flappet Lark. From that spot we had the border of Senegal on one side and good views of the River Gambia on the other. The locals around here seem to ignore the borders and farm the land without any care for a country boundary. From that spot we saw a pair of Black Crowned Cranes at the top of a tree. A stunning sight! Further scanning and walking the fields produced Long-crested Eagle, Anteater Chat, Rufous-crowned Roller, Tree Pipit, Wheatear, Woodchat Shrike, Chestnut-crowned Sparrow-weaver, Rufous Bushchat, Whitethroat and a Wahlberg's Eagle with an unusually pale crown.
After a tiring day in the heat, we decided to spend the afternoon driving to yesterday's waterhole, to see what might come in to drink later in the afternoon. On the way we were stopped in our tracks by two large bobbing heads in the long grass. Abyssinian Ground Hornbill!! Wow what a special bird they are. We tried to get closer, but they were very skittish and soon took off overhead and into the next field. Everyone managed to get great views. In the same fields we also heard another Saville's Bustard but it didn't show. We reached the waterhole and it was much more quiet in the evening so we decided to go back to base and chill out for the evening.
Full eBird checklist for Morgan Kunda Camp day 1.
Full eBird checklist for Morgan Kunda Camp day 2.
Day 9
A very early start was in order as we had to get to Georgetown with various stop offs along the way. After a few minor stops and a break down scare, we reached Kantuar Wetlands, which was a reliable Egyptian Plover site. It was basically a road running through some great looking wetland habitat. Sure enough, the first bird we saw was Egyptian Plover, swiftly followed by Quailfinch. It was an amazing little stop and our bird list really mounted up with highlights including Subalpine and Sedge Warbler, huge flocks of Collared Pratincole, Osprey, Montagu's Harrier, a flock of 12 Four-banded Sandgrouse, Sand Martin, Red-rumped Swallow, Red-chested Swallow and Yellow-crowned Bishop.
Full bird checklist of birds seen at Kantuar wetlands.
Moving on and various roadside stops produced Sahel Paradise Wydah, African Swamphen, White-faced whistling duck before arriving at Wassu bee-eater colony. This was an old sand quarry that had been taken over by various bee-eater species. The most numerous was a first for the trip, Red-throated Bee-eater, which were flying in and out of the nesting holes in the sand, typical of bee-eaters. Whilst most of us were fixated on that, Dan spotted a Painted snipe and we soon realised it had recently hatched chicks in tow. A pretty special sighting.
Our luck hadn't ran out just yet as Tony and Phil found us Marabou Stork, while the same time, Andy saw a huge black snake, likely a cobra but it was gone in no time. It was probably hunting for bee-eater fledglings or eggs. We drove a hundred metres or so and there was bird I have been waiting to see for a long time. Northern Carmine Bee-eaters in all their glory. Some of them using donkeys to perch on and feed on any insects flushed. Carrying on and we had nothing of note to add before we reached the river crossing and our destination at Georgetown.
Full eBird checklist for Wassu.
We checked into Baobabolong camp, which was 'rustic' shall we say, had a beer, some food and quickly left for our boat trip for our next target species, African Finfoot. The water was calm and pleasant, the sun was setting and the birds kept on coming. Birds seem to let you get that bit closer when on a boat and we had decent views of Swamp Flycatcher, the closest Palm-nut vultures, African Fish Eagles and a full cast of all the birds you would expect on the wooded banks of a large African river. No Finfoot, but a distant log turned out to be two wary Hippopotamus that retreated underwater every time we went for a photo. The sun was setting and we were rapidly running out of light, the captain decided to have a last minute look up an adjacent creek. No joy so we turned around and headed back. Then all of a sudden the captain casually said there is a Finfoot. It was only 4 or 5 metres away but it was very difficult to lay your eyes on it, as it effortlessly sleeked into the darkness, jumping in and out of the water to try escape us. A great moment and setting that will live with me for a long time.
Full eBird checklist for Baobabolong camp.
Day 10.
Our last full day, but we were at the furthest point away meaning we had a long drive back with less stops due to the distance. We blanked at a known Verreaux's Eagle Owl roost and moved on to Jahali Rice fields. A few new birds popped up here such as Black Coucal, Western Banded Snake Eagle and Common Snipe. It was a quite a quick stop and we were Back on the open road in no time, aiming for the Pygmy Geese as Dalaba. After a bit of scanning we finally connected with them as well as a close up Fine-spotted Woodpecker.
Full eBird checklist for Dalaba wetlands and Jihali rice fields.
Moving on, we rushed off with the aim of getting to Farrasuto, with nothing much to report along the way apart from another Bataleur. We arrived at Farrasuto and before long the local guides had our bins on a beautiful African Wood Owl. Also at Farrasuto was a bird that we had dipped on all week and that was the White-backed Night Heron. A peculiar looking bird with huge eyes owing to its nocturnal foraging behaviour. The guides had another surprise in store and that was a lovely pair of Greyish Eagle owl in their day roost. What a lovely bird!
Full eBird checklist for Farrasuto.
Day 11
The last day and we only had a few hours to spare before we had to head to the airport. Pa thought it would be a good idea to head to Penjem as it wasn't far away and would probably have a few last minute ticks. He wasn't wrong, within a few minutes of leaving the van we had a inquisitive flock of White Helmetshrike coming in close to check out Pa's Pearl-spotted Owlet imitation. Within the half hour or so that we were there we had good views of Violet Turaco, Black Scimitarbill, Yellow-throated Leaflove, Yellow-breasted Apalis and Yellow-bellied Hyliota. A great little spot to finish the tour off!
Full eBird checklist for Penjem.
A superb 10 day birding trip was had with 289 bird species seen. I would highly recommend Gambia to any birder as it is cheap, accessible and there are lot of different birds to be seen in a relatively small space. If you need a local Guide then definetely contact Pa Jallow. My favourite lodge and area would be Morgan Kunda as it is perfectly placed to visit many different areas. Please get in touch if you fancy a trip to Gambia in the future as we will be arranging more. Thanks for reading.