Norfolk is without doubt one of my favourite places for wildlife in the UK. I particularly enjoy it in the winter where you can see huge flocks of waders over The Wash at places like Snettisham, Frampton Marshes and Titchwell. Huge skeins of wintering geese fill the skies as they move between fields. Every year I go a number of times and this winter was no different. I first went in November, after we weren't able to get to the annual Isles of Scilly 'Birders vs Islanders' football match, which was cancelled due to bad weather on the crossing. There were two of us heading there, myself and my oldest friend Ollie Mackrill, and when we got the bad news that the ferry was cancelled, we decided to just look for better weather and go birding. Norfolk it was then. We started at Frampton Marsh, (not Norfolk I know but near enough and a good starting point), with the aim of seeing as many birds as possible in the weekend. Tide tables were all showing to be high, not the highest but high, meaning good numbers of birds are going to be pushed onto the reserves. We were in the camper so we could get fairly close to the action the night before, allowing us to wake up and start birding. Wow we were in for a treat at Frampton at sunrise. In fact we heard the birds before we saw them. We could hear that a vast number of birds were flying around, and when we finally laid our eyes on them, it was a huge flock of Black-tailed godwits shapeshifting as they changed direction. As we watched them whirling around we both said to each other that something must have spooked these birds. Then bang, out of nowhere a peregrine stooped in and caught a Godwit. Incredible stuff.
We did the full walk around the site to see what comes in. Interesting birds of note were the Long-billed dowitcher that seems to have been there all winter. A lovely group of swimming Spotted redshank, some unfashionably late Barn Swallow and an extremely small Ruff within a group of distant normal ones that caused us a few ID headaches.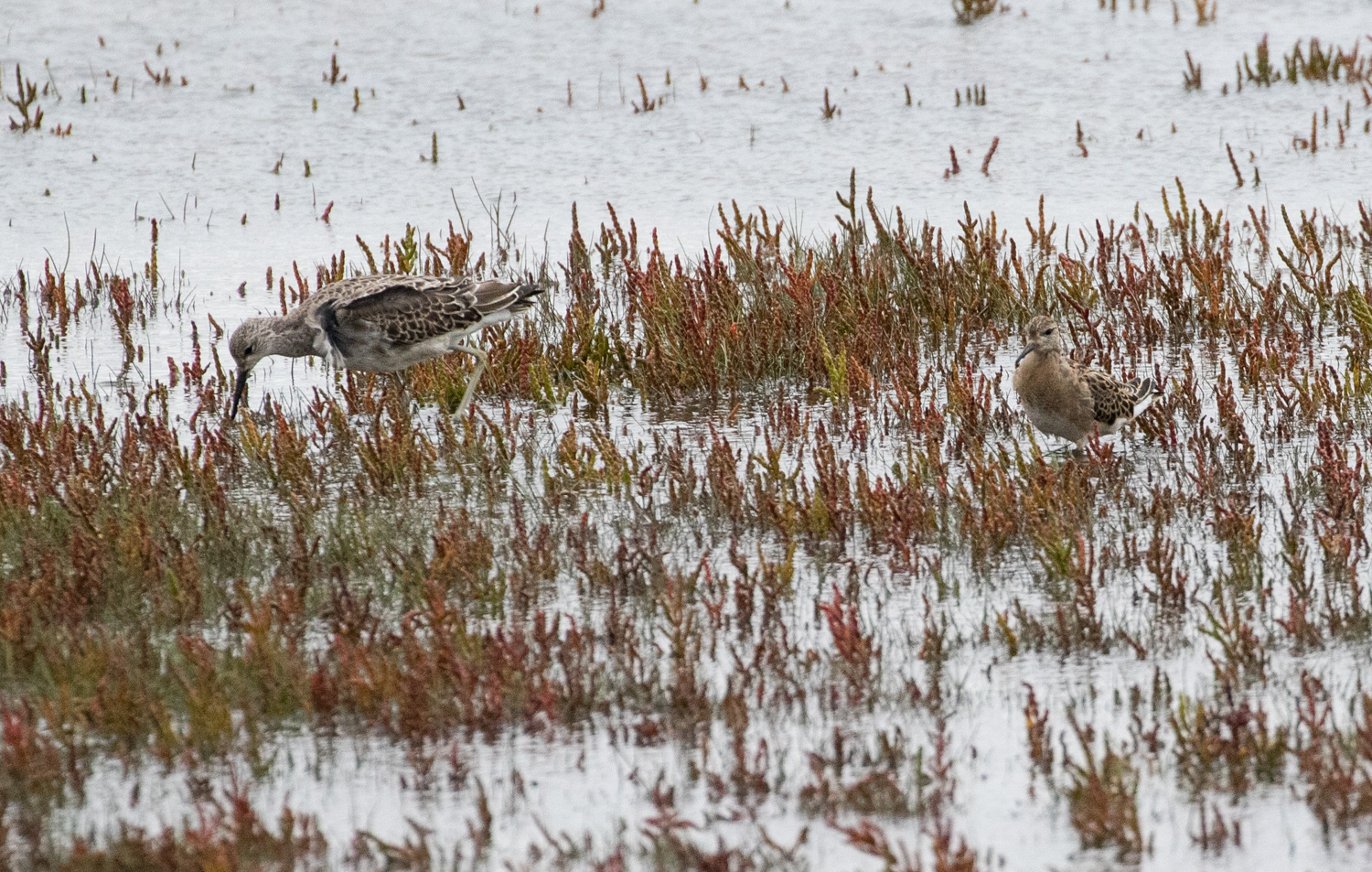 Full eBird checklist for Frampton Marsh.
Then we went straight over to Snettisham to catch the highest tide, in anticipation of the super flocks of Red Knot. After a scramble trying to get there on time, it did not disappoint. It wasn't the highest possible tide, so the birds didn't come as close as we hoped, but we still saw some stunning birds nonetheless. 75,000 Red Knot (according to be boards at RSPB Frampton Marshes), 6000+ Oystercatcher, 3000, dunlin, 2500 curlew, 2000 bar-tailed godwits, 1600 redshank, 1300 Golden Plover, and 500 greylag. We are talking massive numbers of birds over The Wash that day, and this is the reason I like it in this area so much. Wintering birds in the UK is a spectacle that often gets overlooked.
Here is the eBird checklist of the rest of the birds we saw at Snettisham
After the obligatory fish and chips by the sea in Hunstanton, we headed over to Holme Dunes to try catch up with the snow buntings there. No joy but we got great views of a hobby hunting what seemed like an abundance of dragonflies in the area at the time. Cracking bird.
eBird list for Holme Dunes
We moved towards the Broads for the latter part of the day with quick stops at Titchwell and Cley, which revealed excellent views of Avocet, Little Stint and a really goof fly by Bittern.
Cley list

We went to Hickling Broad where we hoped to finding some Common Cranes, Bearded Tit and view the Harrier roost. The weather wasn't great but here was an organised boat trip around the fens going ahead so we jumped on that for a mini tour. A great little trip which would be ideal in spring but a little cold and windy in late autumn. We met some lovely ladies who I am still in touch with via Instagram and we all got a close view of a lovely little snipe right by the hide. The watch tower there is something else! Right up in the canopy of the trees with unobscured views of the Broads. Would highly recommend this reserve for a day out, especially in Spring! The Harrier roost was a bit unproductive because of the heavy rain, but we still managed to see over 20 Marsh Harrier from a distance. We met a photographer there who said we had just missed a pair of cranes. So in a nutshell we dipped on everything we went to see at this reserve 😂.
Early night for an early rise and we decided to hit dawn at Horsey Gap. The weather was still miserable and the birding super quiet, so we had a look at the seal colony there as it was pupping season and very active. Stunning animals that were surprisingly close!
The birding was almost non existent at Horsey Gap, then out of nowhere, the bird of the trip popped up, a Dartford Warbler. That's birding for you, almost nothing to see then an absolute corker. Other birds of note on the walk back to the van were a juvenile Gannet far out at sea that caused us ID issues . Also a flock of buntings that were probably Snow Bunting but the views weren't good enough to confirm. Anyway that was the end of the trip, great birding since the rest of the country was getting battered with a really bad storm, a total of 92 species in 2 full days, so not bad at all.